The Aerosmith Sure Bolt™ is a one-piece, heavy duty screw anchor with a finished hex head. The anchor is manufactured from carbon steel and is heat treated. The
Sure-Bolt™ is available in a variety of sizes from 1/4 to 3/4 inch. The hex head diameter is larger than the diameter of the anchor and is formed with serrations on the underside. The anchor can be installed in a pre-drilled hole with a powered impact wrench or a torque wrench. The anchor threads cut into concrete on the sides of the hole and interlock with the base material during the installation. Once installed they are easily identifiable by head markings with ASF on the head. Suitable base materials include normal weight concrete, and lightweight concrete. The anchor is designed for consistent and reliable performance in cracked and uncracked concrete.
Suitable for installation in CRACKED CONCRETE, UNCRACKED CONCRETE, REINFORCED CONCRETE & STONE.
Structural anchoring in cracked and uncracked concrete, including industrial environments
Glazing, windows and shop windows
Industrial racking and conveyor systems
Installation of railings and handrails in interiors applications
Anchoring of machinery, boilers, signs, stadium seating, facade substructures, etc.
Anchoring through wood into concrete base materials
Removable
Quick and easy installation
Use in cracked and uncracked concrete
Use for medium-heavy duty loads.
Finished hex head
Removable
One piece assembly
Variety of length and diameters
Suitable when reduced distance to edge and between anchors is required
Mechanical interlock between concrete and thread
For static and quasi static loads
Can be un-installed leaving the surface clear with no obstructions
Normal weight and lightweight concrete
Reinforced concrete
Cracked and uncracked concrete
Installation Instructions: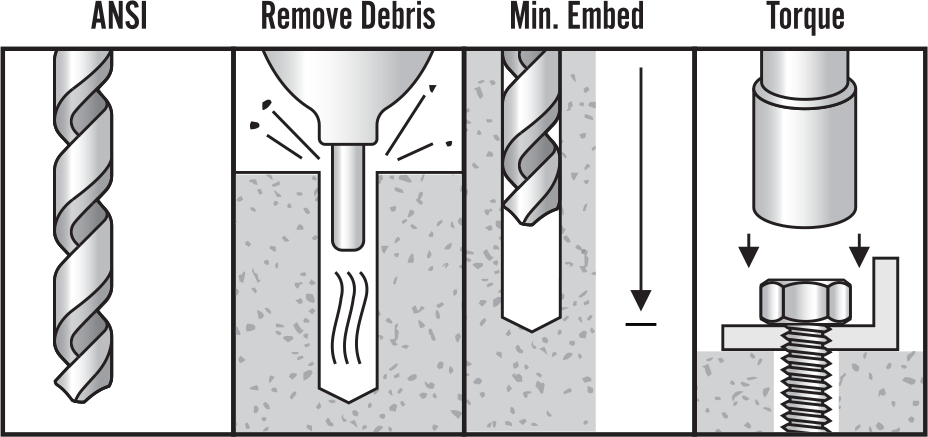 Anchor Component Materials:
Carbon Steel Body, Zinc Plated, with a hex washer head
Aerosmith Sure-Bolt™ Anchor
| Part ID | Description | Overall Length | Diameter | ANSI Drill Diameter | Min. Embed | Max. Torque | Box Qty. | Carton Qty. |
| --- | --- | --- | --- | --- | --- | --- | --- | --- |
| *CB14114CC | 1/4" x 1-1/4" | 1-1/4" | 1/4" | 1/4" | 1" | 24 ft lbs | 100 | 800 |
| *CB14134CC | 1/4" x 1-3/4" | 1-3/4" | 1/4" | 1/4" | 1-1/2" | 24 ft lbs | 100 | 800 |
| *CB14214CC | 1/4" x 2-1/4" | 2-1/4" | 1/4" | 1/4" | 1-5/8" | 24 ft lbs | 100 | 600 |
| *CB14300CC | 1/4" x 3" | 3" | 1/4" | 1/4" | 1-5/8" | 24 ft lbs | 50 | 400 |
| *CB38134CC | 3/8" x 1-3/4" | 1-3/4" | 3/8" | 3/8" | 1-1/2" | 35 ft lbs | 50 | 200 |
| CB38212CC | 3/8" x 2-1/2" | 2-1/2" | 3/8" | 3/8" | 2-1/4" | 35 ft lbs | 50 | 200 |
| CB38300CC | 3/8" x 3" | 3" | 3/8" | 3/8" | 2-1/2" | 35 ft lbs | 50 | 200 |
| CB38400CC | 3/8" x 4" | 4" | 3/8" | 3/8" | 2-1/2" | 35 ft lbs | 50 | 200 |
| CB38500CC | 3/8" x 5" | 5" | 3/8" | 3/8" | 2-1/2" | 35 ft lbs | 50 | 200 |
| CB38600CC | 3/8" x 6" | 6" | 3/8" | 3/8" | 2-1/2" | 35 ft lbs | 50 | 200 |
| *CB12200CC | 1/2" x 2" | 2" | 1/2" | 1/2" | 1-3/4" | 35 ft lbs | 50 | 100 |
| *CB12212CC | 1/2" x 2-1/2" | 2-1/2" | 1/2" | 1/2" | 2-1/4" | 45 ft lbs | 50 | 100 |
| CB12300CC | 1/2" x 3" | 3" | 1/2" | 1/2" | 2-3/4" | 45 ft lbs | 50 | 100 |
| CB12400CC | 1/2" x 4" | 4" | 1/2" | 1/2" | 3" | 45 ft lbs | 50 | 100 |
| CB12500CC | 1/2" x 5" | 5" | 1/2" | 1/2" | 3" | 45 ft lbs | 25 | 50 |
| CB12600CC | 1/2" x 6" | 6" | 1/2" | 1/2" | 3" | 45 ft lbs | 25 | 50 |
| CB12800CC | 1/2" x 8" | 8" | 1/2" | 1/2" | 3" | 45 ft lbs | 20 | 80 |
| *CB58300CC | 5/8" x 3" | 3" | 5/8" | 5/8" | 2-3/4" | 85 ft lbs | 25 | 50 |
| CB58400CC | 5/8" x 4" | 4" | 5/8" | 5/8" | 3-1/4" | 85 ft lbs | 25 | 50 |
| CB58500CC | 5/8" x 5" | 5" | 5/8" | 5/8" | 3-1/4" | 85 ft lbs | 25 | 50 |
| CB58600CC | 5/8" x 6" | 6" | 5/8" | 5/8" | 3-1/4" | 85 ft lbs | 20 | 40 |
| CB58800CC | 5/8" x 8" | 8" | 5/8" | 5/8" | 3-1/4" | 85 ft lb | 20 | 40 |
| CB34400CC | 3/4" x 4" | 4" | 3/4" | 3/4" | 3-3/4" | 115 ft lbs | 20 | 40 |
| CB34500CC | 3/4" x 5" | 5" | 3/4" | 3/4" | 4" | 115 ft lbs | 20 | 40 |
| CB34600CC | 3/4"x 6" | 6" | 3/4" | 3/4" | 4" | 115 ft lbs | 10 | 20 |
| CB34800CC | 3/4" x 8" | 8" | 3/4" | 3/4" | 4" | 115 ft lbs | 10 | 20 |
| CB34100CC | 3/4" x 10" | 10" | 3/4" | 3/4" | 4" | 115 ft lbs | 10 | 20 |
*This size is less than the required minimum standard anchor length for strength design